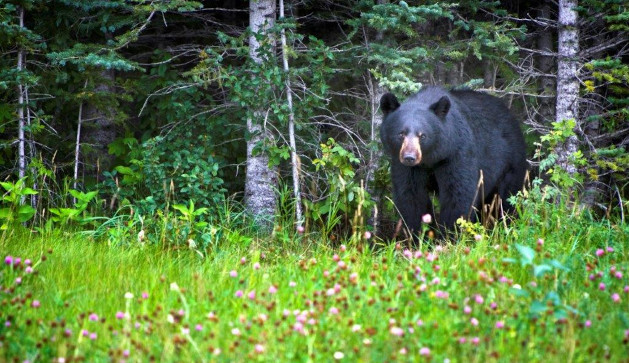 Rockies' producers are committed to the sustainable development of natural gas in Canada. Our partners are industry leaders in environmental stewardship and collectively have one of the world's lowest upstream GHG emission intensities.
Exporting Canadian natural gas provides an opportunity to meet international energy demand in a sustainable and responsible way, with some of the world's strongest environmental regulations and cleanest natural gas.
​
​
World-Class Upstream Emissions Performance
Rockies' producers collectively have one of the lowest upstream GHG emission intensities in the world, almost 80% lower than the US national average.
This stems from Canada having one of the most stringent upstream regulatory environments, with monitoring requirements and limits on flaring, venting, and fugitive methane emissions, as well as Rockies' producers dedication to sustainable practices and continuous environmental innovation.
Leading upstream emissions performance, coupled with a low-emissions LNG facility and Canada's close proximity to Asian markets, enables Canadian LNG to be exported with significantly lower emissions than other major exporting countries. As the world's demand for natural gas continues to grow, particularly in Asia, the Canadian natural gas industry should be the global supplier of choice.
​
How do Canadian natural gas producers minimize GHG emissions?
​Rockies' producers, along with other Canadian natural gas producers, are actively working to minimize or eliminate GHG emissions through operational efficiencies, innovation and new technologies. 
Primary sources of direct GHG emissions during natural gas production and processing include combustion for power generation, flaring, venting and fugitive releases. Stationary combustion typically accounts for the largest portion of emissions. Producers have achieved significant reductions through electrification of facilities and well sites, carbon capture and sequestration, use of cleaner fuels during operations and waste heat recovery to reduce fuel usage.
​Flaring, venting and fugitive emissions are strictly regulated in Canada. Flaring is the controlled burning of waste gas during operations, while venting is the controlled release of unburned gases into the atmosphere. The majority of these emissions are associated with maintaining safe operations. While Canada is already well below other natural gas producing countries, the Alberta and BC governments have set targets to further reduce what little methane emissions remain. Our producers are actively working to meet or exceed these targets through the use of electric, solar or air-driven instrumentation, strong fugitive emission management plans and robust methane leak detection and repair programs.
​
Below are some exciting developments and innovations from our producers to reduce GHG emissions.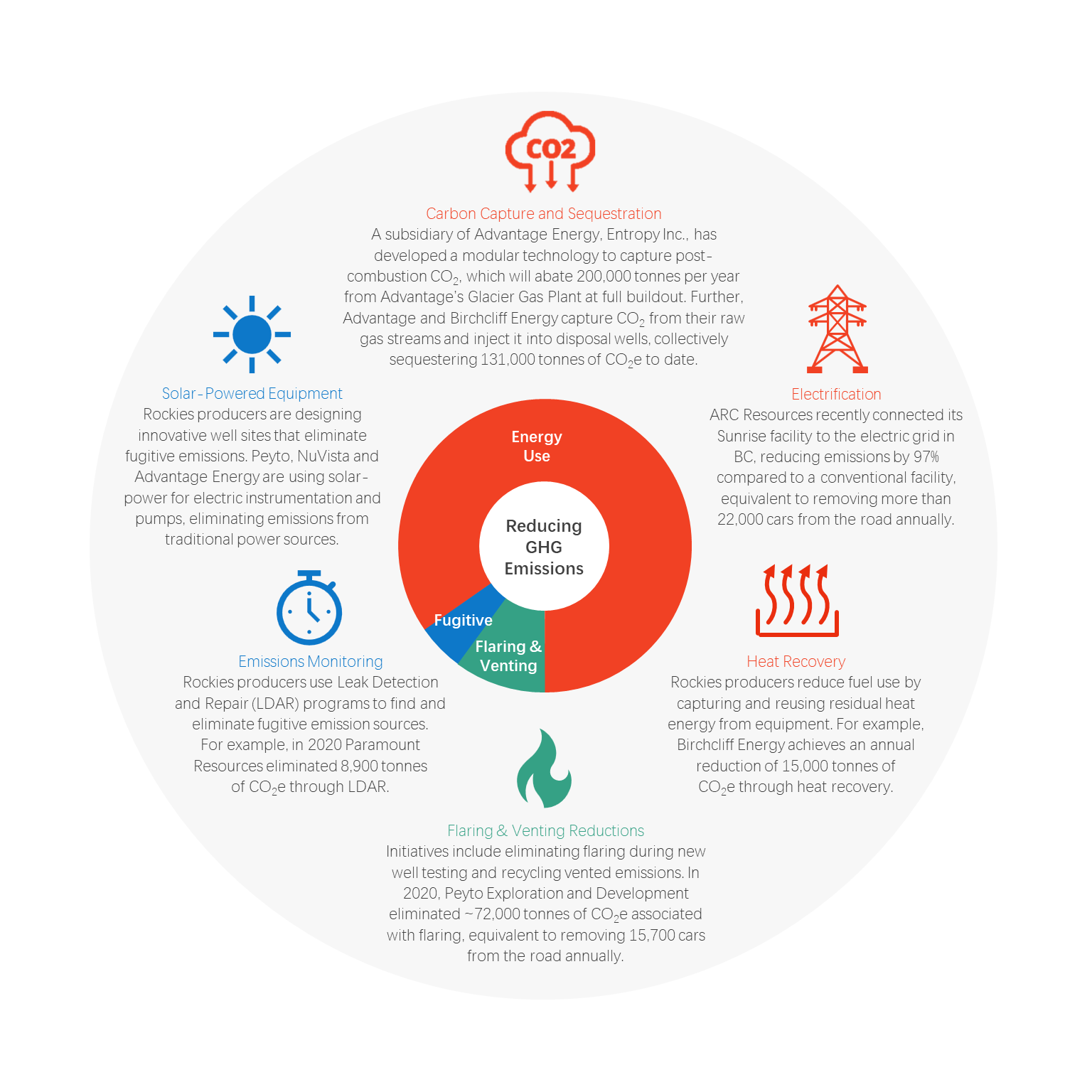 ​
How are other environmental impacts mitigated?
Protection of the natural environment and biodiversity is paramount for the Rockies producers. Significant technical planning goes into site selections and responsible construction practices. Canadian natural gas producers are using horizontal drilling and multi-well pads to minimize surface land disturbances. This allows for greater production volumes to be realized with minimal land use. Further, Rockies' producers are committed to accelerating site abandonment and reclamation of lands back to their natural state. Additionally, our producers are working to increase water recycling practices and using alternative water sources for their operations, such as municipal wastewater or non-potable sources.